Many birders have busy schedules and find it difficult to allow time for their favorite hobby. Tips on how to make more time in 2017 include marking down birdwatching in a day planner, attending classes or bird festivals and improving backyard habitat.
I realize that you're reading this later, but, as I sit here, it's New Years. On New Year's, the world stops for a moment so we can recalibrate our bearings. We take a look back at where we've been and seen if it squares with our priorities. If not, we can make changes.
As I talk to birders from around the country, there is a general feeling of frustration over the difficulty of finding time for birdwatching – both time in the field and time to improve our backyard habitat. While the reasons vary, most relate to the hectic schedules of the 90s, where outside pressures on one's time have reached an all-time high. Those of us who leave the fun things, like birdwatching, until everything else is done, are usually left with dusty binoculars. The answer is clear – schedule birdwatching in your day planner.
Let me recommend a wish list for the coming year. Wishlists are a lot of resolutions, except they're fun. Include on your list changes you'd like to make in your backyard, birding trips you'd like to take, and birding stuff you'd like to buy. Consider doing at least one project for your backyard. Schedule two special birding trips: one to a local or regional site (if you like it, go again – it's close by), and another to a major birding site. There are some great ones in almost every region of the country. Consider hitting the major site in conjunction with one of the seventy plus birding festivals held annually around the country. Check our calendar of events (page 70) for ideas. For things to buy, the sky's the limit. Books are always welcome, or tapes to help learn songs or CD-ROMs for songs and a ton of additional information. If it's time for better binoculars, go for it. Or, maybe a spotting scope?
A number of birding programs are available to you. The U.S. Fish and Wildlife Service and National Fish and Wildlife Foundation, for example, coordinate International Migratory Bird Day (IMBD), which is designed to increase awareness of migratory birds. This year, IMBD will be held on Saturday, May 10. If a special birding trip is not scheduled for your community, contact the sponsors (see page 13) and they will send you an information packet. Organizers of these trips are encouraged to invite guests, such as teachers, politicians, and newspaper reporters, who would especially benefit from this experience.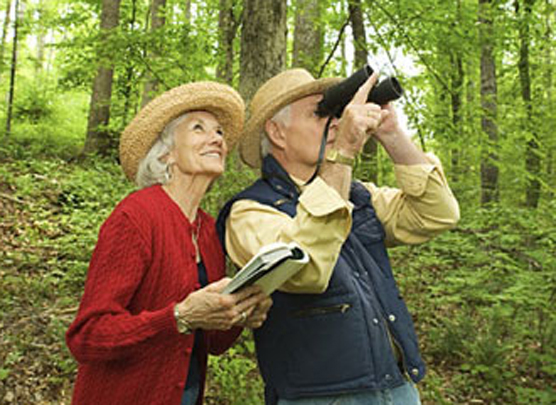 If you're fairly new to birdwatching, I encourage you to hook up with others who share your interest. Develop birdwatching friends. Contact a local Audubon Chapter or nature center and get their program schedule. Join them on a birding trip. We're beginning a new department called "Getting Started" that we hope you will find helpful. In this issue, we focus on field marks and the difference between looking and seeing.
When this year is over, may you look back with satisfaction at time spent relaxing with birds, both in the field and in your backyard? So remember, when planning your schedule, you are one of the most valuable people you know. Arrange your priorities accordingly. Good birding to you.